A team of proven educational leaders
The more support students have, the higher they can set their sights. Heights unites esteemed leaders from Philadelphia's most trusted educational nonprofits ⎯ Philadelphia Futures and Steppingstone Scholars ⎯ to unlock more: More programs. More partnerships. More possibilities for the students we work to empower every day.
Meet our accomplished leadership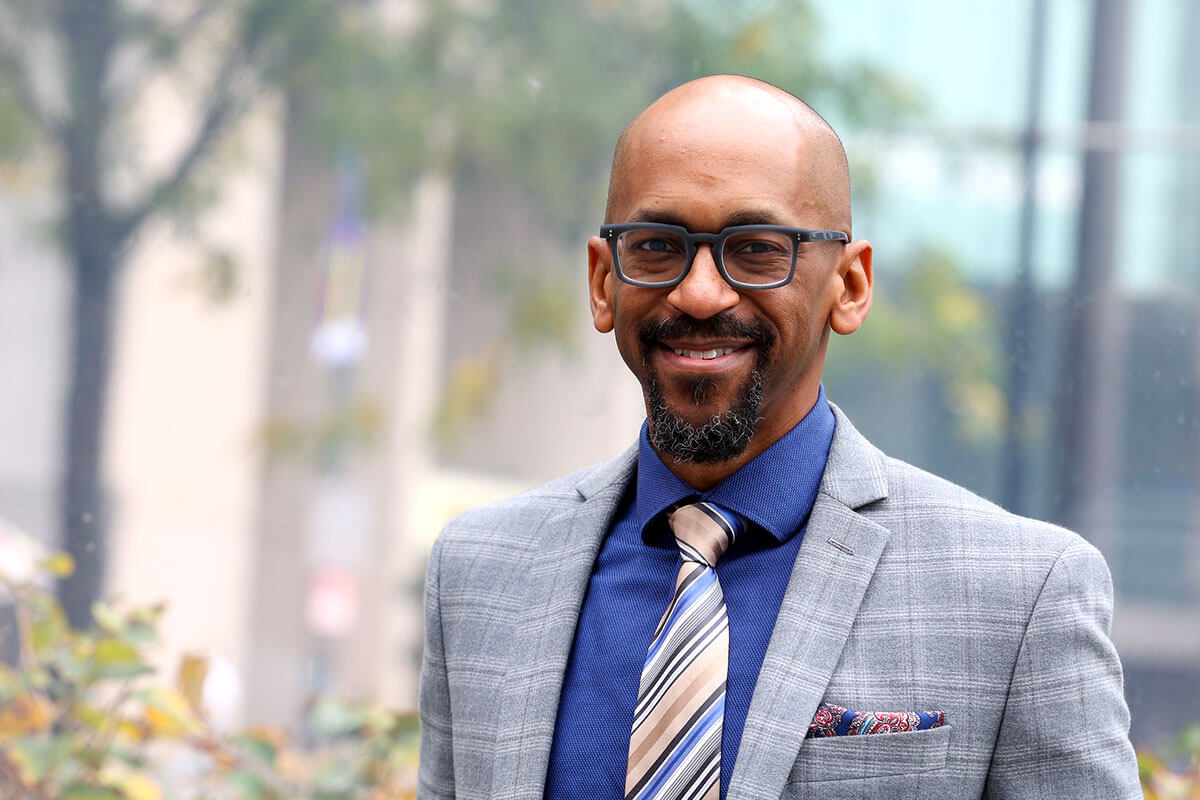 Sean E. Vereen, Ed.D.
Co-President
Sean oversees student outcomes and experience at Heights and co-leads the organization with Sara. Formerly president of Steppingstone Scholars, he led the launch of several programs and strategic partnerships increasing the organization's impact and scope. A noted thought leader in educational pedagogy and racial, social, and economic inequities within the educational system, Sean is a member of Johns Hopkins Access Advisory Board, which works with Hopkins' undergraduate admissions office to realize the goals of Michael Bloomberg's $1.8 billion gift for increasing the low-income and first-generation student population.
Prior to joining Steppingstone, Sean spent ten years at the University of Pennsylvania in a variety of roles, including the Associate Dean for Opportunity and Access and Office of Undergraduate Admissions. Sean previously served as vice chair of the mayor's education nominating board for the School District of Philadelphia's Board of Education. He is a board member of Elevate 215 and The Philadelphia School, and he is also a lecturer in the higher education division at the University of Pennsylvania's Graduate School of Education. Sean holds a Bachelor of Arts degree from the University of Rochester and an Ed.D. from the University of Pennsylvania.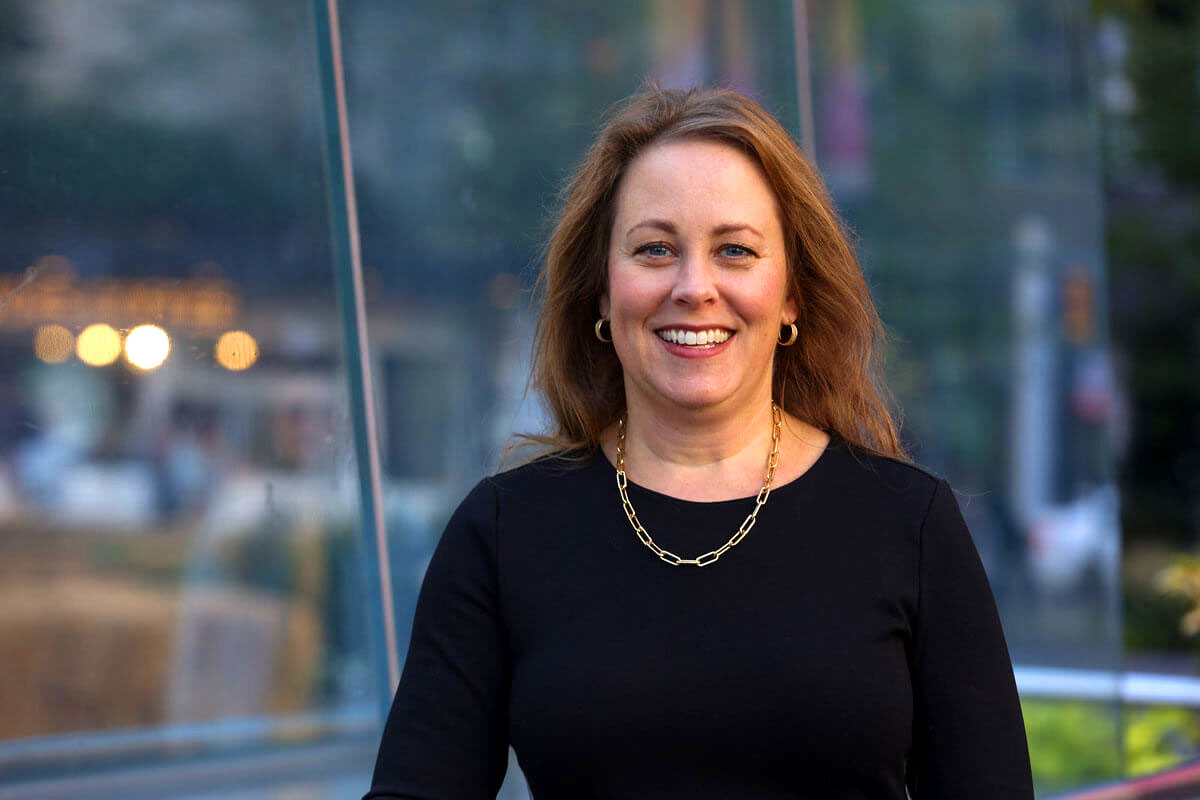 Sara L. Woods, Esq.
Co-President
Sara oversees operations and innovation at Heights and co-leads the organization with Sean. Sara leads through a relationship-centered, strengths-based lens. Formerly president and CEO of Philadelphia Futures, Sara increased fundraising by 50%, doubled the number of college partnerships, and launched an organization-wide anti-racist transformation. In addition to creating the Public Interest Lawyering course as an adjunct professor at Villanova University School of Law, she served as president of the board of directors at Access Matters, an organization equalizing access to sexual and reproductive health care, and on the advisory board of the Crime Victims Law Project.
Prior to working at Philadelphia Futures, she served as executive director of Philadelphia VIP, and as director of public interest careers and pro bono programs at Villanova University School of Law. Sara holds a Bachelor of Arts degree from Penn State University and a Juris Doctor and Masters of Public Administration from Villanova University.
Chris Avery
VICE PRESIDENT OF K-12 PATHWAYS
Chris leads the development of Heights' K-12 programming and helps forge relationships to enhance the organization's work in the community. He brings an extensive understanding of the challenges that Heights' students and families face daily, and knowledge of how to navigate Philadelphia's complex landscape of school options.
Chris previously served as vice president of programs at Steppingstone Scholars. Prior to that role, he spent 14 years as an administrator and presenter for schools, most notably serving as director of community life at The Haverford School. Chris has served on several boards, including the Executive Committee of the Board for the Multi-Cultural Resource Center and was a facilitator for The National SEED (Seeking Educational Equity and Diversity) Project. He was published in the NAIS Diversity Handbook for best practices in diversity and inclusion for independent schools, and in 2014, he won Teaching Tolerance's national Award for Excellence in Teaching. Chris holds a Bachelor of Arts degree from the University of Virginia and an M.Ed. from the University of Pennsylvania.
Paige LeGrand
VICE PRESIDENT OF ADVANCEMENT
Paige brings two decades of advancement experience to Heights, where she leads fundraising, communications, and engagement efforts. She previously served as vice president of development and communications at Steppingstone Scholars, where she developed a robust fundraising program and led a rebranding effort.
Paige's previous experience includes fundraising leadership roles at independent schools, most notably as Episcopal Academy's director of development from 2006 to 2014, where she led the school's successful $100 million campaign to build a new campus in Newtown Square. Paige holds a Bachelor of Arts degree from Hamilton College and an MBA from Cornell University's Johnson School of Business.
Chanell Bates
VICE PRESIDENT OF TALENT
With more than 15 years of experience in the education and nonprofit sectors, Chanell leverages a deep passion for improving the life outcomes of young people. She previously served at Steppingstone Scholars as chief talent officer. 
Prior to that role, Chanell served as director of strategy and operations in the School District of Philadelphia's Office of Talent, where she designed and enhanced systems to support the staffing of schools and implemented a portfolio of high-quality teacher pathway programs to increase the supply of teachers in high-need content areas. She additionally served as director of postsecondary initiatives at Mastery Charter Schools, leading college, career, and alumni programming for seven high schools serving approximately 3,000 students. Chanell holds a Bachelor of Arts degree from the University of Virginia and a Master of Public Administration degree from Rutgers University.
Amy Perez
VICE PRESIDENT OF COLLEGE AND CAREER PATHWAYS
Amy leads the growth and development of Heights' programming for students after high school graduation, including both college and career paths. Amy brings expertise in college success and retention strategy, higher education policy, and community-based social work, gained through her 20+ year career in Philadelphia non-profit and higher education sectors. She has served for over six years as the vice president for college success at Philadelphia Futures. Prior to joining Philadelphia Futures, Amy served for eight years in various leadership roles at Eastern University, focusing on academic advising and institutional student retention. She also served as a part-time faculty member in the social work department.

Amy has worked in city government and nonprofit organizations leading program development and assessment, as well as teaching and staff development. She holds a Bachelor of Arts degree in English writing from Eastern University and an Master of Social Work from Temple University.
Michael Hollander
VICE PRESIDENT OF DATA & INNOVATION
Michael leads Heights' work in using data to better serve our students and tailor our programming. With a background as a programmer, a lawyer, and a policy advisor, he brings to Heights a unique ability to translate data and analysis into actionable policy changes.
Prior to working at Heights, Michael served as the Director of Analytics and Assistant Director of DATA Lab at the Philadelphia District Attorney's Office, where he helped to lead and measure policy change, create public transparency, and navigate the complexities of city government. Prior to that, he spent 10 years as an employment lawyer at Community Legal Services and 3 years as a programmer in San Francisco.  Mike holds a Bachelor of Science in Systems Engineering and a Juris Doctor from the University of Virginia.
Board Officers
Board Members
Emeritus Members
Board Officers
Greg Anderson, Board Chair
Dean, College of Education| Temple University
David O'Connor, Board Vice-Chair
General Counsel, Head of Legal and Compliance | First Eagle Investment Management
Olenga Anabui, Board Secretary
Director | Penn Center for Community Workers
Avery Munnings, Board Treasurer
Practice Director | Deloitte
Jackie Rantanen, Board Assistant Treasurer
Managing Director & Head of Product Solutions | Hamilton Lane
Board Members
Emeritus Members
Play your part in empowering students
When it comes to their futures, every contribution counts. Join our efforts to make a difference today.