The 33rd Edition of the Step Up to College Guide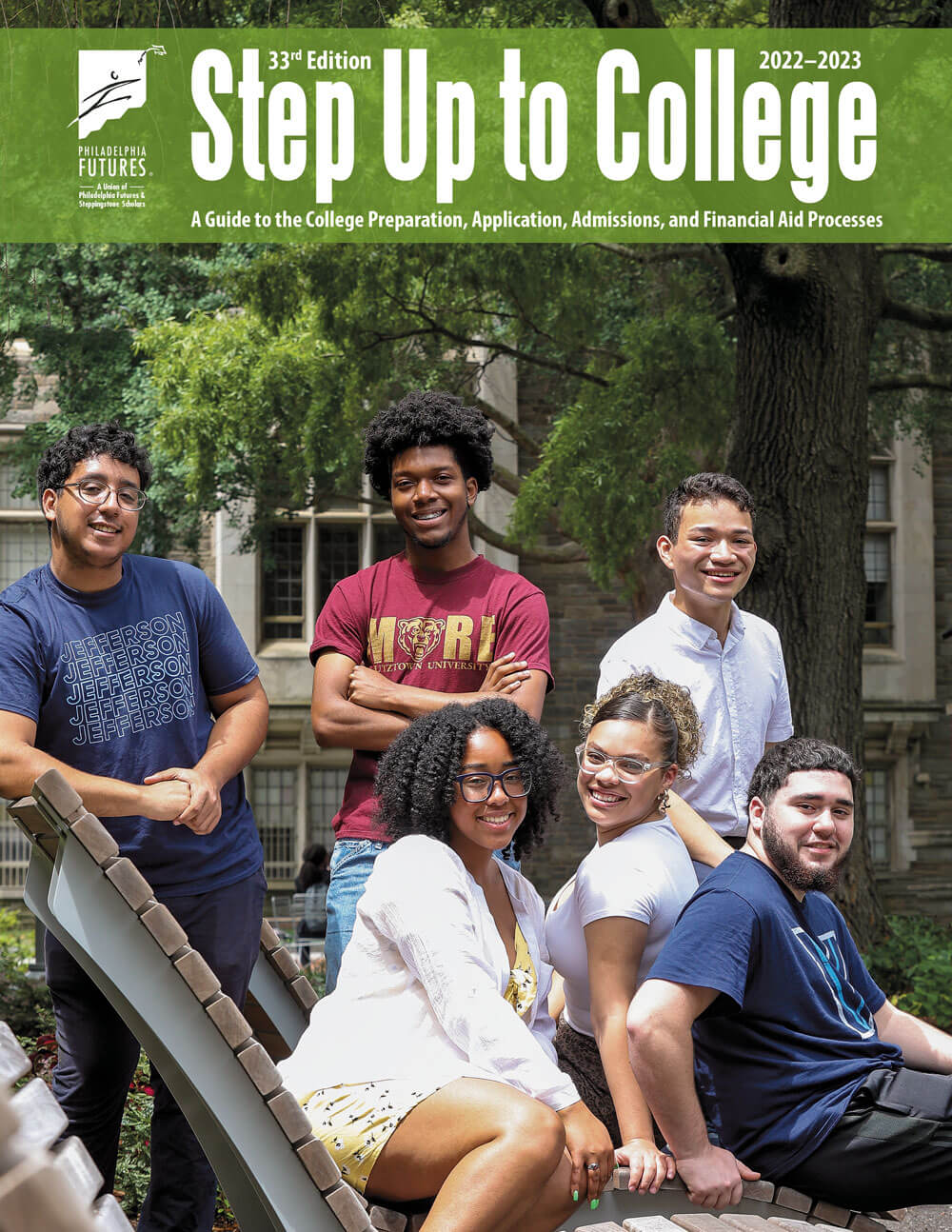 For 33 years, the Step Up to College Guide has been a critical college-going resource for high school students, families, and youth-serving professionals with a wide range of critical college information and resources — from understanding college admission options, to writing application essays, from conquering the FAFSA to making the right college "fit" decision.
Download the Step Up to College Activities
Students can now download and fill out the SUTC activities directly. The following activities are found in the Guide: 
The 2022 Rising Senior Edition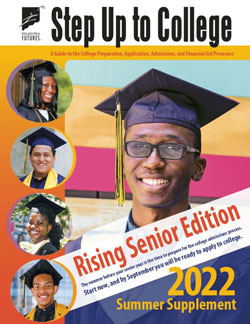 The Rising Senior Edition is the Summer Supplement to Philadelphia Futures' Step Up to College Guide. The Supplement informs juniors entering their senior year about the steps they need to take during the summer to prepare for the college admissions process. This year, the Summer Supplement is being offered in a new, interactive digital format, which includes links to Step Up to College activities, videos, and other college-going resources.
Step Up to College Resources
Step Up to College: A Guide to the College Preparation, Application, Admissions, and Financial Aid Processes is annually published and distributed by Philadelphia Futures and is tailored to students in grades 9 to 12 and their families, leading them through each stage of the college admissions process. In addition to the Guide, Step Up to College offers an array of other resources including videos, a free mobile app, and social media pages.
In addition to the digital copy, which can be found here, 30,000 copies of Step Up to College will be distributed this year to public, public charter, and parochial high schools, branches of the Free Library of Philadelphia, government offices, and many community-based organizations.
Follow Step Up to College on social media:
Step Up to College Funders
Step Up to College resources are made available through the generous support of many sponsors. The following institutions and organizations have demonstrated their commitment to this important publication and the high school students of Philadelphia by supporting the 33rd edition of the Guide:
Supporting Step Up to College is a meaningful way to partner with Philadelphia Futures and support its effort to provide high school students with the tools and resources they need to pursue a college degree. Step Up to College offers funders tremendous outreach opportunities to the Philadelphia community and beyond, and exposure to a large audience of students and their families. College and university supporters are featured in our college profile section and have the opportunity to promote their institution through written text and campus photos.
Supporters are also highlighted on the Facebook and Twitter pages. There are additional opportunities to advertise here on the Step Up to College page.
To learn more about supporting Step Up to College, please contact stepuptocollege@heights.org.
The Step Up to College Videos
In honor of the 30th anniversary, Philadelphia Futures launched a new Step Up to College video series, highlighting the key principles of the Guide and the elements of the college application and college-bound process, including: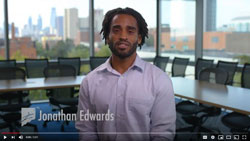 Back in 2014, Philadelphia Futures launched the first series of the Step Up to College videos. These three videos are approximately 30 minutes long and cover the topics of Preparing for College, Understanding College Fit, and Applying to College. The new SUTC videos, starring Philadelphia Futures collegians who have recently navigated the college-going process, are offered in shorter segments, ranging from one to four minutes, and provide the opportunity to learn each segment of the Guide in smaller increments to ensure a better understanding and an easier way to share these important tips with other students on social media.
Step Up to College Mobile App
The Step Up to College mobile app provides students, families, and youth-serving professionals with enriched access to key components of the print edition of the Guide whenever and wherever needed.
Interactive features of the mobile app include:
a "fit" form to help students qualitatively and quantitatively compare schools' academic, social, and financial fit;
the ability to record responses to questions asked on college visits;
tools to help brainstorm, write, and proofread college essays;
a college cost calculator that allows students to analyze and compare financial aid offers; and
the ability to track each step of the college admissions process.
The Step Up to College mobile app can be downloaded via the iPhone App Store or Google Play.